Lire la version française
---
EcoloPharm specializes in the eco-design of prescription drug packaging products that have the smallest carbon footprint on the North American market. This Quebec- based manufacturing company, founded by Sandrine Milante, places eco-responsibility and sustainable development at the heart of its concerns in order to revolutionize the pharmaceutical world.
Share on social medias
The genesis...
A decisive helping hand
Becoming an entrepreneur was not part of Sandrine's career plans, but it is precisely her atypical background and leadership that enabled her to set up EcoloPharm.
In 2000, while teaching and completing her master's degree in political science at Université de Montréal, Sandrine is called upon to help her parents with the supervision of the operations of their company – Plastilec, which specializes in plastic injection.
After a year and a half, Sandrine is fully in charge of operations of the plant with 20 employees on three shifts. She realizes that she has become indispensable.
"In a family business, you think you're giving a helping hand, but it's the whole body that goes through the gears and you get stuck."
She then quits teaching to focus on business. Four years later, the subsidiary Plastimed, which manufactures pharmaceutical vials as a subcontractor, is added. Sandrine then takes over the general management of both companies in 2008.
Meanwhile, Sandrine completes three certificates in business administration, operations management and materials processing, to ensure that she has the right skills to understand the chain of operations.
She quickly realizes that finance has a direct correlation with sustainable development. It serves to demonstrate that optimizing operations leads to financial gains.
"I often say that sustainable development is industrial optimization on another level."
Values
Erasing everything and
starting over
Sandrine's parents become less and less comfortable with the direction that their company, founded in 1995, is taking. So they offer their daughter the chance to take over. But Sandrine aspires to something else: Plastilec and Plastimed do not represent the values she holds dear, especially environmental protection.
"I was given a company I didn't want."
Sandrine then decides to bulldoze the two entities and builds a huge playground in which she can put eco-responsibility at the centre of the operations.
"I had my parent's support behind this project and I am still very grateful to them."
Convinced that it is possible to counter the waste of raw material, overpackaging and excessive handling required in the manufacture of medicine vials, Sandrine goes off the beaten track in 2009 and sets up her very own project: EcoloPharm.
My goal is to aim for environmental optimization in the management of operations.
She wants to understand where the sources of waste or overuse of a resource are at each stage, in order to reduce its environmental impact.
Sandrine is predestined to be an advocate for environmental protection. She is only seven when she buys with her pocket money her very first book on endangered animals.
"I realized the importance of humans in the fragile balance of nature."
Even today, Sandrine marvels at a sunset, a flower opening or a bird chirping.
Faced with the accumulation of sad environmental facts, she refuses to accept inaction. The idea of doing her part takes root in her.
Environment
Sandrine develops a completely new business model. As a result, she leaves some clients who no longer fit with the values of her new company.
It is Sandrine's father, Gaëtan, who lays the foundation of the first patent, without measuring the extent this idea would take on and the environmental impact of a crazy idea. As soon as the first patent is filed, Sandrine realizes that the last patent for a vial design had been filed in 1975.
For her, it is inconceivable that nothing new had been done in a field as innovative as the medical sector.
The pharmaceutical industry has been packaging its products the same way for 40 years.
Sandrine knows she is on to something. In 2010, she launches a complete line of eco-friendly products, including vials, ointment jar and a pill organizer.
Sandrine has to surround herself with the right people to make informed choices. Very early on, she sets up an advisory committee to question the way things are done.
At the time, as a woman in the manufacturing industry, Sandrine believes that she does not have the credibility to represent EcoloPharm in front of clients.
I was better off staying in my factory and sending men to deal with market development.
She therefore brings in a male business partner in 2011 to ensure her company's visibility in the market and sets up a share transfer plan two years later.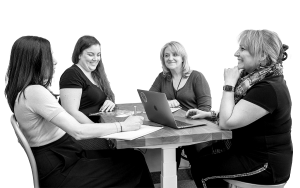 women
Breaking down stereotypes
Soon, Sandrine has to devote a lot of time to EcoloPharm. With a little girl at home, the balance between being an entrepreneur and a young mother is difficult to maintain. Nevertheless, she does not let guilt take hold of her.
I didn't want to be the kind of mother who feels guilty about having a career.
But reality hit her hard a few years later, when she picks up her daughter from school on her way back from a business trip. "The educators had never seen me in two years. They didn't believe I was her mother."
Shaken, Sandrine realizes that the judgement in the eyes of the educators affects her. She can see that her daughter is happy and well taken care of. "I told myself that I would never again be intimidated by the social stereotype of the perfect mother."
Determined to stop trying to fit in a mould and to fully embrace her role as a company leader, she says goodbye to her business partner after five years of collaboration.
Sandrine takes care of the business development herself and ends up attracting a team driven by a common impulse: to embody the values of EcoloPharm.
Why did I think that I wouldn't be able to properly represent my company?
Vision and values...
Revolutionizing the world of pharmacies
What is important for Sandrine is to target something in the market that she can transform.
For her, revolutionizing the world of pharmacies means, among other things, developing new products by rethinking the entire industrial process. The goal? To be able to measure the environmental impact of EcoloPharm's products. This is the definition of eco-design.
When it launches its first product line in 2010, EcoloPharm is the first company in North America to offer a medicine vial moulded from polypropylene – a recyclable plastic.
Questionning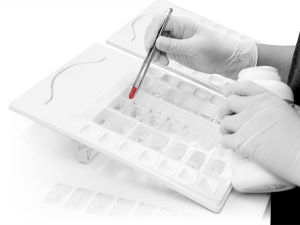 Just six months later, all of her competitors make the transition from a polystyrene to a polypropylene vial. Sandrine understands that this change is not technically difficult to accomplish, but no one had dared to cross that line before her.
Why change something that nobody questions?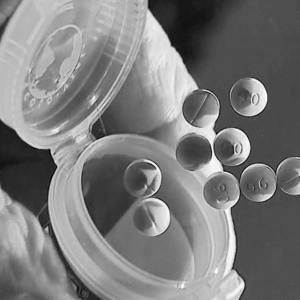 Someone had to come in and disrupt the market. EcoloPharm did it.
Sandrine and her team are constantly questioning the transformation chain of pharmaceutical packaging: the types of materials used, their origin, the quantity, energy and water consumption involved.
She also ensures that the design is multifunctional, ergonomic and improves the market reality for the clients who use it. Packaging is reduced to a minimum; unnecessary handling is also reviewed. All this is done in order to develop an industrial process that eliminates
as many steps as possible.
Eco-design had never been done in this industry.
EcoloPharm is also concerned with improving the way things are done for pharmacies, which become true partners in this adventure. Sandrine is present to re-evaluate the management of their inventory, the frequency of their orders and efficiency of their work flow.
We want to make sure that there are multiple benefits for them to have a lower carbon footprint than before.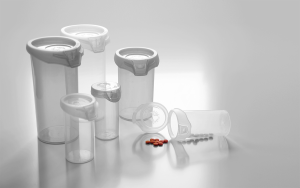 Sandrine soon realizes that it only took a single person to challenge the ways of doing things in the pharmaceutical industry, some of which were outdated.
For example, in 2008, she has to deliver medicine vials in boxes of 100 units, which is the average number of prescriptions issued per week by a pharmacy in… 1974!
In 2020, pharmacies fill about 1,000 prescriptions per week. This means that a pharmacy receives 10 boxes a week, which involves a lot of packaging, bags and handling.
"It didn't make any sense!"
Daring
More Thant ten years after the creation of EcoloPharm, Sandrine receives testimonials from clients who still believe that the company is disrupting the market with its innovation.
We have values. We were able to make a difference where we wanted to do so.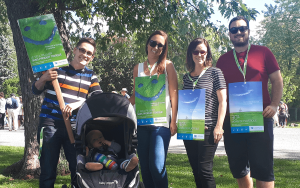 Innovative
Eco-industrialization also comes with a very high level of robotization. "We were forerunners in this field." EcoloPharm stands out in terms of robotization, automation and data control. All possible handling is therefore reduced to a minimum.
The design of the products generally requires 35% less plastic material than the competition. Also, the material is selected from local sources of supply, thus reducing transportation costs.
Furthermore, the plastic material is moulded at lower temperatures, resulting in lower electricity consumption. And temporary packaging between each production step is eliminated from the process thanks to the reworked design and robotization.
Sandrine wants entrepreneurs to be aware of the importance of seeing the chain of operations as a whole. By changing just one production step, it is impossible to achieve sustainable development.
Entrepreneurs have not necessarily tied everything together.
eco-design
Becoming the reference
In 2015, EcoloPharm distributes to 20% of the pharmacies across Canada. In 2022, this percentage almost doubles, translating to approximately 5,000 pharmacies. Its modern and robotized equipment allows it to manufacture 60 million vials and 6 million pill organizers per year.
Sandrine knows that sustainable development is part of her company's growth, because this element makes it viable over time.
Growth will come automatically, but not as a goal at all costs.
EcoloPharm is so disruptive in the market that the competition solicits its services to collaborate on certain projects. EcoloPharm thus becomes the reference in the field of eco-design. "They know that if they were to try to catch up with us, they are still far behind. We are much more advanced than they are."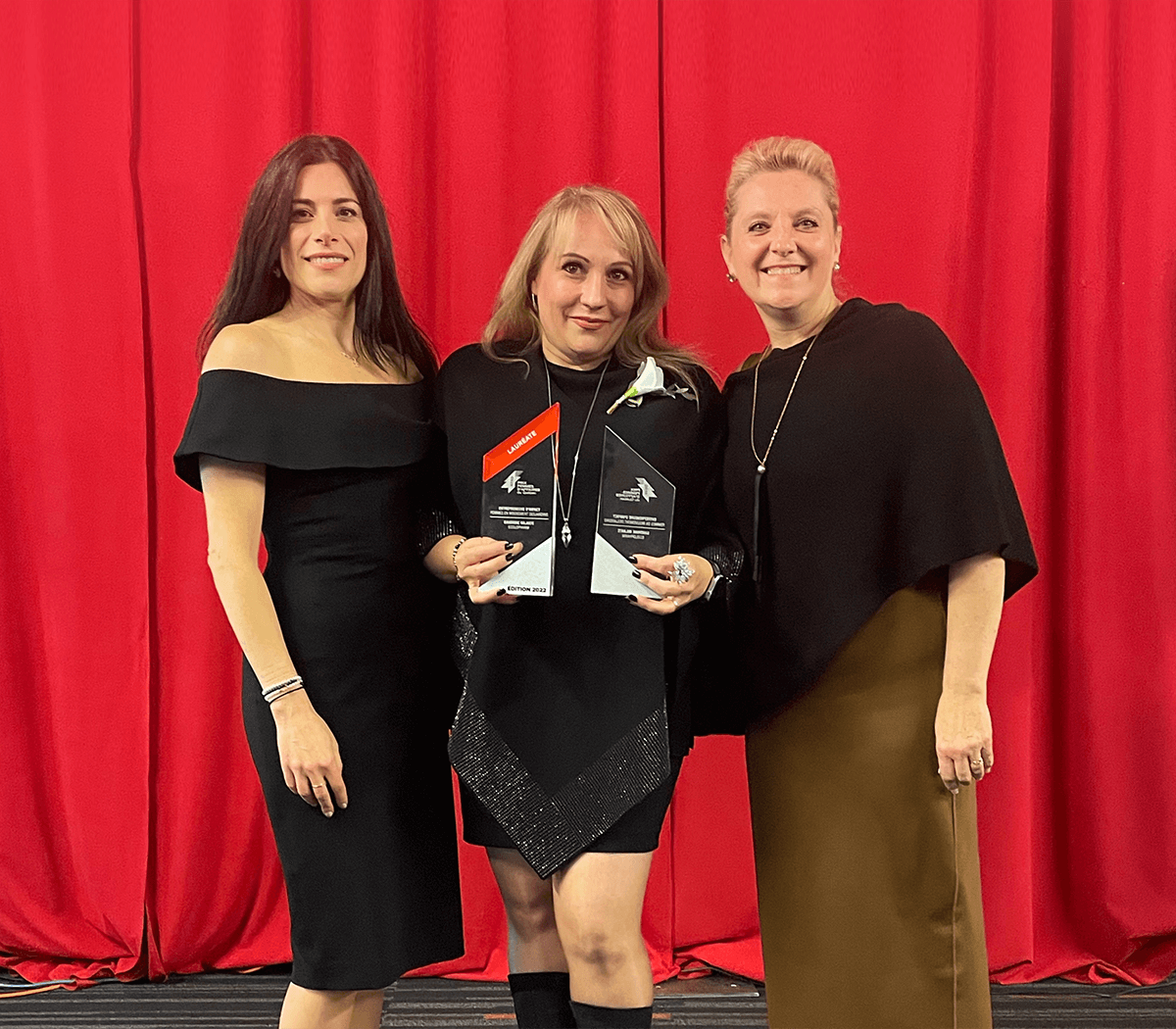 A dispute that makes you grow
Although EcoloPharm is now a profitable and sustainable company, the path to this goal has not always been easy. A poor choice in business development puts the company in an extremely precarious financial position.
In September 2015, EcoloPharm closes its financial year with a loss of one million dollars. Sandrine dismisses her business partner. The latter files a lawsuit against the company in 2016, which keeps it in a situation of technical bankruptcy.
It's a scar that has left its mark on the company, but it has also allowed people to grow through this reality.
Solidarity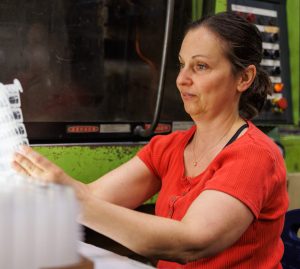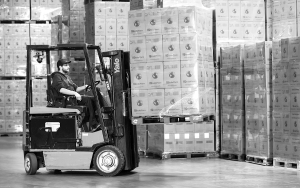 During the storm, Sandrine has to lay her cards on the table in front of her forty or so employees. She asks them to make several sacrifices, including accepting a 10 to 15% pay cut in order to maintain operations.
"I told them: 'If you want to leave, now is the time'."
Much to her surprise, no employee decides to leave. "They told me: 'We won't leave the ship because there's water coming in'."
In 2017, the employees regain everything they had sacrificed. Two years later, they are proud to be part of the EcoloPharm team, as the company becomes the largest vial manufacturer in the only pharmacy packaging manufacturer.
It is also during this year that the litigation comes to an end and that a complete debt restructuring is carried out with new partners.
Sandrine Milante
Founder
Sandrine's thirst for learning and her curiosity mean that she is never satisfied with a half-answer. In both her personal and professional life, she does not hesitate to question the way things are done.
"Whenever there is a flaw somewhere, that's where all the innovation is going to come from."
The word 'impossible' does not exist in her vocabulary. And that is precisely what makes her strength within EcoloPharm: she pushes the limits by going head first to clear paths never explored before.
Christina Ferentinos
Director of Sales and Business Development
Christina is goal-oriented and maintains a positive mindset that enables her to complete projects and achieve success. Responsible for business relations with major accounts in Canada, she is able to develop strategies to improve customer approach and engagement.
"I feel that the voice of our clients is a clear echo of where the market is going."
Christina has had an atypical career path before becoming a proud ambassador passionate about the mission of EcoloPharm. She first studied English literature before moving into medical aesthetics in a dermatology clinic. Over time, she began to manage the medical aesthetic side of the clinic. For seven years she ran her own clinic and moved abroad. On her return, she was recruited by EcoloPharm.
Sébastien Soler
Director of Operations and Innovation
Involved, passionate and energetic. These are three words that describe Sebastien's personality. In all areas of his life, this mechanical engineer gives 100% when something is close to his heart.
"I find it important to complete the various projects we embark on, however challenging or crazy they may seem."
Sébastien prides himself on always staying on top of new technologies to ensure that operations and products are as efficient as possible. With a bachelor's degree in mechanical engineering, specializing in the design and analysis of mechanical components, he has worked as a consultant on a variety of mandates ranging from securing manufacturing machines to designing tooling for the railway industry, as well as project management.
The strategist
Mathieu Poliquin
Director of Financial Performance
As a chartered professional accountant (CPA) and certified management accountant (CMA), Mathieu is a resourceful person and a quick learner.
"I am able to ask the right questions in order to better plan our projects, identify our risks and anticipate potential contingencies."
He rose through the ranks at Deloitte Montreal to the position of Director of Risk Advisory for companies. In search of a job that is more in line with his environmental concerns, he makes the jump to EcoloPharm in 2017.
In addition to overseeing all finances, Mathieu leads several projects of optimization of tasks and processes, business intelligence, internal control improvement and information technology improvement.
Claude Harvey
Director of Human Resources
Claude is results-oriented and does not keep her head in the clouds for long. Her strength? Putting ideas into action.
"In an SME, when you turn the boat, it turns for real."
With a bachelor's degree in human resources from Université de Sherbrooke, Claude began her career in accounting before branching out into recruitment. A team player, she is known for her versatility and involvement.
Synergy
An outline of the future...
A BIGGER impact !
Growth
Sandrine hopes that her company will grow significantly in the coming years, thus proving she will have succeeded in transforming more and more products as well as reducing the environmental impact of the entire industry.
Growth obviously remains a goal in terms of revenue, but also — and above all — in terms of number of pharmacies converted to an eco-responsible solution.
To achieve this, EcoloPharm will establish itself in the United States, a country where no competitor makes eco-designed products with sustainable development in mind.
With two giant drug packaging manufacturers sharing nearly 90% of the market, Sandrine hopes to have the same success she is experiencing in Canada.
We came in 10 years ago as a small company, and today we have the largest market share of the three players in Canada.
EcoloPharm – English
8100, Rue Samuel-Hatt
Chambly (Québec) J3L 6W4
ecolopharm.com
Publishing Director: Audrey Dallaire
Author: Roxanne Caron
Photographer: Patrick Desrochers
Translator: Frédérick Poulin
Graphic designer: Liliane Racine
Proofreading: Céline Chabot
Read also


in the same sector
of activity
---
Read also


in the same
region
---